MQHRA Hosts Annual Youth Day at the Races
On Saturday, June 29, MQHRA hosted its annual Youth Day at the Races at Canterbury Park. Six attendees spent the day with MQHRA members as they toured the backside, offices and stewards' booth for a behind-the-scenes tour of the racing industry in Minnesota.
At the end of the day, attendees took a comprehensive exam to compete for a scholarship. The exam covers topics learned during the day's activities as well as general Quarter Horse and racing knowledge. Attendees may also apply to participate in the American Quarter Horse Youth Association National Racing Experience.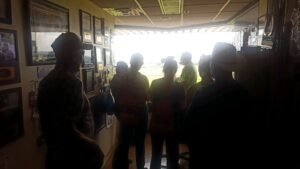 Participants spent the morning on the backside, touring barns, watching training, visiting the racing office, meeting with the stewards, and watching track announcer Paul Allen call a Quarter Horse race.
Thank you to all who attended this year's event, and please join us in congratulating Katherine Hacker for her high test score! She will be the recipient of a $1,000 scholarship from the MQHRA.
The MQHRA would like to thank Doug Steiskal for coordinating and administering the annual MQHRA Youth Day at the Races for the last 19 years.
MQHRA also thanks Canterbury Park for their support and assistance in hosting this valuable event each year.